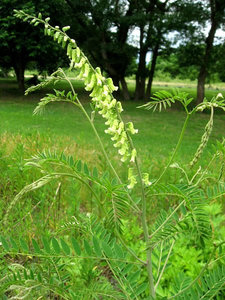 An evergreen Shrub growing to 1.5m by 1m at a slow rate. It is hardy to zone 6. It is in leaf all year, in flower from July to August, and the seeds ripen in September. The flowers are hermaphrodite (have both male and female organs) and are pollinated by Insects. It can fix Nitrogen. The plant prefers light (sandy), medium (loamy) and heavy (clay) soils and requires well-drained soil. The plant prefers acid, neutral and basic (alkaline) soils. It cannot grow in the shade. It requires moist soil.
Family
Traditional Chinese Medicinal (TCM) Uses*
The Sophora Flavescens root is anthelmintic, antibacterial, antifungal, antipruritic, astringent, bitter, carminative, diuretic, febrifuge, parasiticide, pectoral, stomachic and tonic. It is used internally in the treatment of jaundice, dysentery, diarrhea and urinary infections. Sophora root is used both internally and externally in the treatment of vaginitis, eczema, pruritis, ringworm, leprosy, syphilis, scabies and itching allergic reactions. The root is harvested in the autumn and dried for later use. The plant is anthelmintic and diuretic. It also has antibacterial activity, inhibiting the growth of Mycobacterium tuberculosis and Trichomonas vaginitis.*
References
Source: Sophora Flavescens Ku Shen Plants For A Future, England 1996-2008.
This work is licensed under a Creative Commons License.
---
Natural dietary supplements are designed to offer the body support to promote health, harmony, balance and overall well being.*
In TCM Sophora is used internally in the treatment of jaundice, dysentery, diarrhea and urinary infection, used internally and externally in the treatment of vaginitis, eczema, pruritis, ringworm, leprosy, syphilis, scabies, itching allergic reactions.*