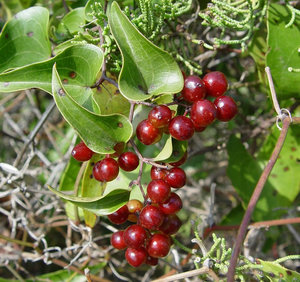 Pinyin: Tu Fu Ling Latin: Smilax Glabra
Physical Characteristics
A deciduous Climber growing to 3m. It is hardy to zone 0. It is in flower from July to November, and the seeds ripen from November to April. The flowers are dioecious (individual flowers are either male or female, but only one sex is to be found on any one plant so both male and female plants must be grown if seed is required. The plant is not self-fertile. The plant prefers light (sandy), medium (loamy) and heavy (clay) soils. The plant prefers acid, neutral and basic (alkaline) soils. It can grow in semi-shade (light woodland) or no shade. It requires moist soil.
Family
Edible Uses*
Edible Parts: Fruit; Root. Root - cooked. It can be dried and ground into a powder. The root contains nearly 70% starch. Fruit. The fruit is up to 10mm in diameter. No more details are given.*
Traditional Chinese Medicinal (TCM) Uses*
Antiarthritic; Antiscrophulatic; Cancer; Skin; Stomachic; VD. The aerial tubers are used in the treatment of abscesses, boils, cystitis and diarrhea. The rhizome is antiarthritic, antiscrophulatic, depurative, skin, stomachic. Smilax Glabra has been used in the treatment of cancer, mercury poisoning, acute bacterial dysentery, rheumatoid arthritis and syphilis. Smilax Glabra is said to be clinically 90% effective in the treatment of primary syphilis.*
References
Sources: Smilax Glabra Tu Fu Ling Plants for a Future
This work is licensed under a Creative Commons License.
---
Natural dietary supplements are designed to offer the body support to promote health, harmony, balance and overall well being.*
In TCM Smilax Glabra has been used in the treatment of cancer, mercury poisoning, acute bacterial dysentery, rheumatoid arthritis and syphilis.*