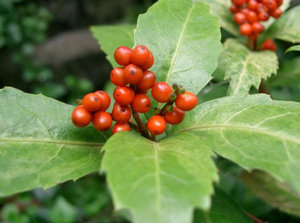 Pinyin: Cao Shan Hu Latin: Sarcandra Glabra
Family
Traditional Chinese Medicinal (TCM) Uses*
Sarcandra glabra is an herb native to Southeast Asia. It has been used in traditional Chinese medicine for the treatment of bruises, bone fractures, arthritis, nausea, internal pain, joint swelling and cough. It has been proposed for the treatment of chemotherapy-induced thrombocytopenia and idiopathic thrombocytopenic purpura. In one clinical observation in China, Sarcandra glabra was shown to increase platelet production. This herb is also believed to posses a regulatory action on immunity.*
Sarcandrae glabra is a warm herb and can have both a bitter and sweet taste. This herb is used in TCM due to its latent-heat-clearing qualities. It also has strong detoxifying properties, helping to clear heat and toxic material. It can especially enhance cellular energy production. It also has nonspecific anti-inflammatory activity, and has been used to promote circulation.*
References
Hocking, G.M., A Dictionary of Natural Products. 1997, Medford, NJ: Plexus Publishing, Inc.
Hson-Mou Chang and Paul Pui-Hay, Pharmacology and Applications of Chinese Materia Medica, World Scientific Pub Co Inc (May 2000), pages 30-37
Pathogeny-Pathology Department, Institute of Materia Medica of Jiangxi College of Traditional Chinese Medicine. The effects of Sarcandra Glabra on the immunologic function of organ. 1976
Zhejiang Coordinating Group on the Clinical Studies of Sarcandra glabra, Xienyiyaoxue Zazhi (Journal of Traditional Chinese Medicine) 1979
Zhong, L., et al., The study on effect of Sarcandra glabra on prevention and treatment of thrombocytopenia by chemotherapy. Zhong Yao Cai 2005. 28(1): p. 35.
Zhang, J.Z., Clinical observation of 26 cases of idiopathic thrombocytopenic purpura treated with Sarcandra glaber. J Tradit Chin Med 1981. 1(1): p. 61-2.
---
Natural dietary supplements are designed to offer the body support to promote health, harmony, balance and overall well being.*
Sarcandra is used in TCM for the treatment of bruises, bone fractures, arthritis, nausea, internal pain, and cough (1). Purported uses: Bruises, Bone fractures, Arthritis, Nausea, Internal pain, Cough, Bleeding disorders, Cancer treatment.*