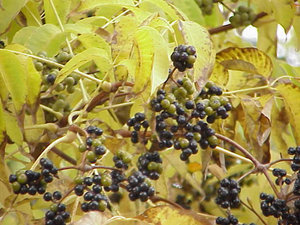 Pinyin: Huang Bai Latin: Phellodendro Chinense, Phellodendro Amurense
Common Name
Chinese Cork Tree
Physical Characteristics
A decidious Tree growing to 10m by 10m. It is hardy to zone 5 and is frost tender. It is in flower in June, and the seeds ripen from September to October. The flowers are dioecious (individual flowers are either male or female, but only one sex is to be found on any one plant so both male and female plants must be grown if seed is required)The plant is not self-fertile. The plant prefers light (sandy), medium (loamy) and heavy (clay) soils and requires well-drained soil. The plant prefers acid, neutral and basic (alkaline) soils and can grow in very alkaline soil. It cannot grow in the shade. It requires moist soil.
Family
Edible Uses*
Edible Parts: Leaves. Edible Uses: Drink. Leaves - raw or cooked. They can be used in salads, soups and stews. Somewhat bitter due to the presence of tannin in the leaves, though this can be removed by washing the leaves. A cold water infusion of the freshly chopped or dried and powdered leaves is used as a refreshing beverage. Very tasty.*
Traditional Chinese Medicinal (TCM) Uses*
Antibacterial; Bitter; Cholagogue; Diuretic; Expectorant; Hypoglycaemic; Ophthalmic; Skin; Stomachic; Vasodilator. This species is used in Chinese herbalism in the same way as P. amurense. These uses are as follows:- Amur cork tree, called Huang Bai in China, is commonly used in Chinese herbalism, where it is considered to be one of the 50 fundamental herbs, but one that should be used with care. A strongly bitter remedy, the bark acts strongly on the kidneys and is regarded as a detoxicant for hot damp conditions. Recent research has shown that the plant is useful in the treatment of meningitis and conjunctivitis. Huang Bai should only be used under professional supervision and should not be take during pregnancy. The bark is alterative, antibacterial, antirheumatic, aphrodisiac, bitter stomachic, cholagogue, diuretic, expectorant, febrifuge, hypoglycaemic, ophthalmic, skin, vasodilator and tonic. It is taken internally in the treatment of acute diarrhoea, dysentery, jaundice, vaginal infections including Trichomonas, acute urinary tract infections, enteritis, boils, abscesses, night sweats and skin diseases. It is commonly used in conjunction with Scutellaria baicalensis and Coptis chinensis in a preparation called 'injection of three yellow herbs'. It is given intramuscularly for upper respiratory tract infections. The bark of 10 year old tress is harvested in the winter or spring and dried for later use. The fruit is expectorant.*
Other Uses*
Dye; Ground cover. An olive-green dye is obtained from the flowers and stems. The plant is a good ground-cover in sunny positions or light shade.*
References
Sources: Phellodendron Bark Phellodendro Chinense Huang Bai Chinese Cork Tree Plants For A Future, England 1996-2008.
This work is licensed under a Creative Commons License.
---
Natural dietary supplements are designed to offer the body support to promote health, harmony, balance and overall well being.*
In TCM Phellodendron Bark is taken internally in the treatment of acute diarrhea, dysentery, jaundice, vaginal infections including Trichomonas, acute urinary tract infections, enteritis, boils, abscesses, night sweats and skin diseases.*