Featured Health Support Products
ITP Kit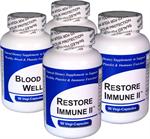 The all herbal formulas in the ITP Kit are developed by Doctors based on their understanding of how to naturally support:
Promoting Normal Healing from Bruising, Petechiae or Bleeding*

Healthy Blood Coagulation Function*

Healthy Blood Platelets County and Quality*
Contains one month supply of:
Blood Well (180 Vegi-Capsules)
Restore Immune II (180 Vegi-Capsules)
For the ITP Kit:

100% Money Back Guarantee!
What is Petechiae?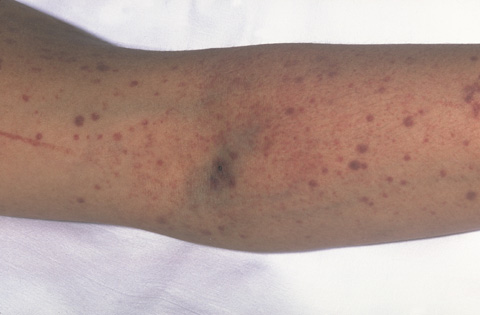 Petechiae is condition resulting from hemorrhages under the skin's surface causing tiny red or purple spots on the skin. Petechiae is sometimes called "red skin spots" or "pinpoint red spots on the skin". This condition can be caused by any of the following:
I.T.P. or Idiopathic thrombocytopenic purpura (low platelet counts)
Autoimmune disorders
Injury or trauma
Allergic reaction
Pharmaceutical Drugs side effects
Birth (petechiae in the newborn)
Viral infection or illness affecting blood coagulation
Antiplatelet medications such as clopidogrel (Plavix)
Petechiae is basically bleeding into the skin and may occur from broken blood vessels that form tiny pinpoint red dots, which are called petechiae.
What Is Purpura?
Purpura is a condition that exists when blood collects under the tissue in larger flat areas or in a very large bruised area (often called "ecchymosis" or simply a "bruise").
Western Medicine recommends that aside from the common bruise, any other bleeding that occurs into the skin or mucous membranes should be checked out by a health care provider and can be a very significant sign that something may be abnormal.
Important notes: Areas under the skin that are experiencing bleeding, that do not become pale after you press on it, are areas of concern. Areas that become pale after you press on it, may simply be redness of the skin known as erythema. The redness of erythema decreases when you apply pressure to it and returns when release the pressure.
To prevent bleeding or bruising, protect aging skin and avoid traumas caused by bumping something or pulling on skin areas. For any cuts or scrapes, use direct pressure to stop the bleeding. If you have a drug reaction, ask your health care provider about stopping the drug. Otherwise, follow your prescribed therapy to treat the underlying cause of the problems.
References
1. Ballas M, Kraut EH. Bleeding and bruising: a diagnostic work-up. Am Fam Physician. 2008 Apr 15;77(8):1117-24.
2. Coller BS, Schneiderman PI. Clinical evaluation of hemorrhagic disorders: The bleeding history and differential diagnosis of purpura. In: Hoffman R, Benz EJ, Shattil SS, et al, eds. Hematology: Basic Principles and Practice. 5th ed. Philadelphia, Pa: Elsevier Churchill Livingstone; 2008:chap 121.
3. The Free Medical Dictionary. http://medical-dictionary.thefreedictionary.com/petechiae
Click Here for Blood Platelet Health*
[Top]