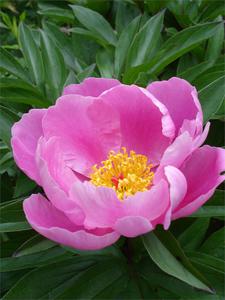 Pinyin: Bai Shao Latin: Paeonia & Peony Root - Paeoniae Lactiflorae Radix
Physical Characteristics
Perennial growing to 0.75m by 0.5m. It is hardy to zone 6. It is in flower in June, and the seeds ripen in August. The flowers are hermaphrodite (have both male and female organs) and are pollinated by Insects. The plant is self-fertile. The plant prefers light (sandy), medium (loamy) and heavy (clay) soils and can grow in heavy clay soil. The plant prefers acid, neutral and basic (alkaline) soils. It can grow in semi-shade (light woodland) or no shade. It requires dry or moist soil.
Family
Edible Uses*
Edible Parts: Root; Seed; Stem. Root - cooked and eaten in a broth. Stems - cooked. Seed - powdered and mixed with tea.*
Traditional Chinese Medicinal (TCM) Uses*
Alterative; Analgesic; Anodyne; Antibacterial; Antiinflammatory; Antiseptic; Antispasmodic; Astringent; Carminative; Diuretic; Emmenagogue; Expectorant; Febrifuge; Hypotensive; Nervine; Tonic; Women's complaints. The root of Chinese peony has been used for over 1,500 years in Chinese medicine. It is known most widely as one of the herbs used to make 'Four Things Soup', a woman's tonic, and it is also a remedy for gynaecological problems and for cramp, pain and giddiness.*
When the whole root is harvested it is called Chi Shao Yao, if the bark is removed during preparation then it is called Bai Shao Yao. The root is alterative, analgesic, anodyne, antibacterial, anti-inflammatory, antiseptic, antispasmodic, astringent, carminative, diuretic, emmenagogue, expectorant, febrifuge, hypotensive, nervine and tonic.*
The most important ingredient medicinally in the root is paeoniflorin, which has been shown to have a strong antispasmodic effect on mammalian intestines, it also reduces blood pressure, reduces body temperature caused by fever and protects against stress ulcers. It is taken internally in the treatment of menstrual disorders, injuries, high blood pressure, pre-menstrual tension and liver disorders. It should only be used under the supervision of a qualified practitioner and should not be prescribed for pregnant women.*
The roots are harvested in the autumn from cultivated plants that are 4 - 5 years old and are boiled before being sun-dried for later use. The roots of wild plants are harvested in the spring or (preferably) in the autumn and are sun-dried for later use. The root is an ingredient of 'Four Things Soup', the most widely used woman's tonic in China. The other species used are Rehmannia glutinosa, Ligusticum wallichii and Angelica sinensis[254]. A tea made from the dried crushed petals of various peony species has been used as a cough remedy, and as a treatment for haemorrhoids and varicose veins.*
References
Sources: Paeonia Lactiflora - Chinese Peony; Paeonia & Peony Root - Paeoniae Lactiflorae Radix Plants For A Future, England 1996-2008.
This work is licensed under a Creative Commons License.
---
Natural dietary supplements are designed to offer the body support to promote health, harmony, balance and overall well being.*
In TCM Chinese Peony is used internally in the treatment of menstrual disorders, injuries, high blood pressure, pre-menstrual tension and liver disorders.*