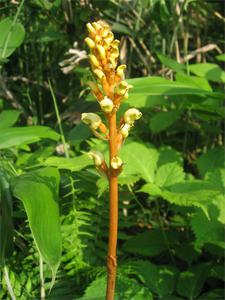 Pinyin: Tian Ma Latin: Gastrodia Elata
Physical Characteristics
Perennial growing to 1m by 0.3m. It is hardy to zone 6. It is in flower from July to August. The flowers are hermaphrodite (have both male and female organs) The plant prefers light (sandy), medium (loamy) and heavy (clay) soils. The plant prefers acid, neutral and basic (alkaline) soils. It can grow in full shade (deep woodland) or semi-shade (light woodland). It requires moist soil.
Family
Edible Uses*
Edible Parts: Root. Root - raw or roasted. Large.*
Traditional Chinese Medicinal (TCM) Uses*
Analgesic; Antispasmodic; Aphrodisiac; Carminative; Cholagogue; Sedative; Tonic. This species has been used in Chinese herbal medicine for over 1,500 years. The root contains a number of phenolic compounds with medicinal actions. It is a sweet, acrid, herb that is analgesic, anticonvulsive, antispasmodic, carminative, cholagogue, sedative and tonic. It is used internally in the treatment of convulsive illnesses (such as epilepsy and tetanus), rheumatoid arthritis, vertigo and numbness associated with liver disharmony. The root is harvested in the autumn and dried for later use. The stem is aphrodisiac and tonic.*
References
Source: Gastrodia Elata Tien Ma Plants For A Future, England 1996-2008.
This work is licensed under a Creative Commons License.
---
Natural dietary supplements are designed to offer the body support to promote health, harmony, balance and overall well being.*
Gastrodia Elata Tien Ma is used internally in the treatment of convulsive illnesses (such as epilepsy and tetanus), rheumatoid arthritis, vertigo and numbness associated with liver disharmony.*