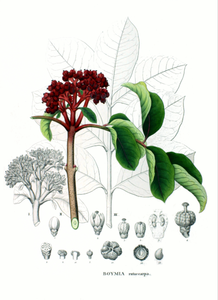 Pinyin: Wu Zhu Yu Latin: Euodia Ruticarpa
Physical Characteristics
Euodia Ruticarpa or Wu Zhu Yu (Evodia Fructus) is a decidious Tree growing to 10m hardy to zone 0. Euodia flowers are hermaphrodite (have both male and female organs) Euodia Ruticarpa prefers light (sandy), medium (loamy) and heavy (clay) soils that are acid, neutral and basic (alkaline) soils and can grow in semi-shade (light woodland) or no shade. Euodia Ruticarpa requires moist soil.
Family
Traditional Chinese Medicinal (TCM) Uses:*
Wu Zhu Yu (Euodia Ruticarpa) has a marked warming effect on the body, helping to relieve headaches and a wide range of digestive problems[254]. Euodia fruit is analgesic, anthelmintic, appetizer, astringent, carminative, decongestant, deobstruent, diuretic, stimulant, stomachic and uterotonic[174, 176, 178, 218, 240].*
Euodia Ruticarpa is used in the treatment of gastritis, nausea, headaches, edema, beriberi and post-partum pains[147]. The partially ripe Euodia fruit is gathered in late summer and can be dried for later use[254]. The Wu Zhu Yu root bark is astringent and vermifuge[218]. Extracts of the Euodia plant show antiviral, antitumor and anti-inflammatory activity[218]. This species was ranked 14th in a Chinese survey of 250 potential antifertility plants[218].*
References
[146] Gamble. J. S.A Manual of Indian Timbers. Bishen Singh Mahendra Pal Singh 1972
[147]A Barefoot Doctors Manual. Running Press 0 ISBN 0-914294-92-X
[174] Kariyone. T.Atlas of Medicinal Plants. 0
[176] Yeung. Him-Che.Handbook of Chinese Herbs and Formulas. Institute of Chinese Medicine, Los Angeles 1985
[178] Stuart. Rev. G. A.Chinese Materia Medica. Taipei. Southern Materials Centre 0
[218] Duke. J. A. and Ayensu. E. S.Medicinal Plants of China Reference Publications, Inc. 1985 ISBN 0-917256-20-4
[240] Chopra. R. N., Nayar. S. L. and Chopra. I. C.Glossary of Indian Medicinal Plants (Including the Supplement). Council of Scientific and Industrial Research, New Delhi. 1986
[254] Chevallier. A.The Encyclopedia of Medicinal Plants Dorling Kindersley. London 1996 ISBN 9-780751-303148
Source: Euodia Ruticarpa Wu Zhu Yu Plants For A Future, England 1996-2008.
This work is licensed under a Creative Commons License.
---
Natural dietary supplements are designed to offer the body support to promote health, harmony, balance and overall well being.*
In TCM Euodia Ruticarpa (Evodia Fructus) is used in the treatment of gastritis, nausea, headaches, edema, beriberi and post-partum pains.*