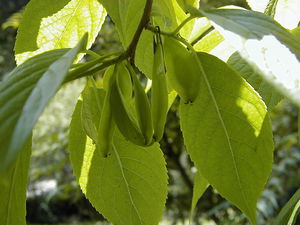 Pinyin: Du Zhong Latin: Eucommiae Ulmoidie
Physical Characteristics
Eucommiae Ulmoidie or Du Zhong is a decidious Tree growing to 12m by 8m at a fast rate hardy to zone 5 in flower in April, and the seeds ripen from September to October. The Eucommia flowers are dioecious (individual flowers are either male or female, but only one sex is to be found on any one plant so both male and female plants must be grown if seed is required)The plant is not self-fertile.
Eucommia prefers light (sandy), medium (loamy) and heavy (clay) well-drained soil prefers acid, neutral and basic (alkaline) soils. Eucommia cannot grow in the shade and requires moist soil.
Family
Edible Uses*
Edible Parts: Leaves.*
Young leaves[178]. No further details are given.*
Traditional Chinese Medicinal (TCM) Uses:*
Eucommia Ulmoidie or Gutta-percha, known as Du Zhong in China, is commonly used in Chinese herbalism, where it is considered to be one of the 50 fundamental herbs[218].*
Du Zhong is considered to be an excellent tonic for the kidneys and liver, and is thought to act specifically on the lower part of the body[254].*
Much interest has been aroused by Du Zhong's ability to reduce high blood pressure. In a clinical trial involving 119 people, 46% of those treated with the herb showed a significant reduction in blood pressure[254]. However, it seems to have little effect in cases of severe hypertension[254].*
The stem bark is analgesic, anticholesterolemic, aphrodisiac, depurative, diuretic, hepatic, hypotensive, sedative, tonic and vasodilator[11, 46, 147, 176, 178, 218, 279]. Eucommia use lowers blood pressure (the stir-fried bark is stronger than raw and a decoction is stronger than a tincture) and reduces the absorption of cholesterol[176]. Eucommia Ulmoidie is used in the treatment of impotence, frequent urination, lumbago, weakness of the lower part of the body, aching back and knees, hypertension and threatened abortion[176, 254]. The flowers and the fruit are astringent[218].*
Other Uses*
A rubber is obtained from the Eucommia sap, but not in commercially viable quantities[11, 46, 61]. The leaves contain 3% dry weight of gutta-percha, a non-elastic rubber, used for insulation of electrical wires etc[74]. The gutta-percha is found in all parts of the tree and is extracted by alcohol[61, 174]. The wood is used for making Pattens (a type of shoe with raised soles)[178].*
References
[11] Bean. W.Trees and Shrubs Hardy in Great Britain. Vol 1 - 4 and Supplement. Murray 1981
[46] Uphof. J. C. Th.Dictionary of Economic Plants. Weinheim 1959
[61] Usher. G.A Dictionary of Plants Used by Man. Constable 1974 ISBN 0094579202
[74] Komarov. V. L.Flora of the USSR. Israel Program for Scientific Translation 1968
[113] Dirr. M. A. and Heuser. M. W.The Reference Manual of Woody Plant Propagation. Athens Ga. Varsity Press 1987 ISBN 0942375009
[147]A Barefoot Doctors Manual. Running Press 0 ISBN 0-914294-92-X
[174] Kariyone. T.Atlas of Medicinal Plants. 0
[176] Yeung. Him-Che.Handbook of Chinese Herbs and Formulas. Institute of Chinese Medicine, Los Angeles 1985
[178] Stuart. Rev. G. A.Chinese Materia Medica. Taipei. Southern Materials Centre 0
[200] Huxley. A.The New RHS Dictionary of Gardening. 1992. MacMillan Press 1992 ISBN 0-333-47494-5
[218] Duke. J. A. and Ayensu. E. S.Medicinal Plants of China Reference Publications, Inc. 1985 ISBN 0-917256-20-4
[254] Chevallier. A.The Encyclopedia of Medicinal Plants Dorling Kindersley. London 1996 ISBN 9-780751-303148
[279] Medicinal Plants in the Republic of Korea World Health Organisation, Manila 1998 ISBN 92 9061 120 0
Source: Eucommia Ulmoidie Du Zhong Plants For A Future, England 1996-2008.
This work is licensed under a Creative Commons License.
---
Natural dietary supplements are designed to offer the body support to promote health, harmony, balance and overall well being.*
In TCM Eucommia Ulmoidie is used in the treatment of impotence, frequent urination, lumbago, weakness of the lower part of the body, aching back and knees, hypertension and threatened abortion.*