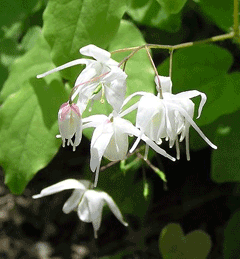 Pinyin: Yin Yang Huo Latin: Epimedium Sagittatum
Physical Characteristics
Epimedium Sagittatum or Yin Yang Huo is a Perennial growing to 0.5m by 0.4m hardy to zone 6 and is frost tender. Epimedium is in flower from May to June. Yin Yang Huo flowers are hermaphrodite (have both male and female organs) and are pollinated by Bees. The plant is not self-fertile. Epimedium prefers light (sandy), medium (loamy) and heavy (clay) soils, acid, neutral and basic (alkaline) can grow in semi-shade (light woodland) and requires dry or moist soil.
Family
Edible Uses*
Edible Parts: Leaves.*
The young plant and young leaves of Epimedium are used cooked[105]. Soaked and then boiled[177]. (This suggests that the leaves are bitter and need to be soaked in order to remove the bitterness.)*
Traditional Chinese Medicinal (TCM) Uses:*
The whole Epimedium plant is antirheumatic, aphrodisiac, carminative, expectorant, ophthalmic and vasodilator. Epimedium Sagittatum or Yin Yang Huo is used as a kidney tonic, and also treats sterility and barrenness[147, 178, 238].*
Epimedium Sagittatum Yin Yang Huo is taken internally in the treatment of asthma, bronchitis, cold or numb extremities, arthritis, lumbago, impotence, involuntary and premature ejaculation, high blood pressure and absentmindedness[238].*
It should be used with some caution since in excess it can cause vomiting, dizziness, thirst and nosebleeds[238]. The plant is harvested in the growing season and dried for later use[238].*
Other Uses
Epimedium Sagittatum is a good ground cover plant[200].
References
[105] Tanaka. T.Tanaka's Cyclopaedia of Edible Plants of the World. Keigaku Publishing 1976
[147]A Barefoot Doctors Manual. Running Press 0 ISBN 0-914294-92-X
[177] Kunkel. G.Plants for Human Consumption. Koeltz Scientific Books 1984 ISBN 3874292169
[178] Stuart. Rev. G. A.Chinese Materia Medica. Taipei. Southern Materials Centre 0
[200] Huxley. A.The New RHS Dictionary of Gardening. 1992. MacMillan Press 1992 ISBN 0-333-47494-5
[233] Thomas. G. S.Perennial Garden Plants J. M. Dent & Sons, London. 1990 ISBN 0 460 86048 8
[238] Bown. D.Encyclopaedia of Herbs and their Uses. Dorling Kindersley, London. 1995 ISBN 0-7513-020-31
[280] Stearn. W. T.The Genus Epimedium and other Herbaceous Berberidaceae The Royal Botanic Gardens, Kew. 2002 ISBN 1 84246 039 0
Source: Epimedium Sagittatum Yin Yang Huo Plants For A Future, England 1996-2008.
This work is licensed under a Creative Commons License.
---
Natural dietary supplements are designed to offer the body support to promote health, harmony, balance and overall well being.*
Epimedium Sagittatum Yin Yang Huo (Horny Goat Weed) is taken internally in the treatment of asthma, bronchitis, cold or numb extremities, arthritis, lumbago, impotence, involuntary and premature ejaculation, high blood pressure and absentmindedness.*