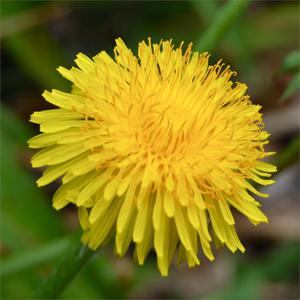 Pinyin: Pu Gong Ying Latin: Taraxacum Officinale
Physical Characteristics
Dandelion is a perennial growing to 0.45m by 0.3m, hardy to zone 5 and is not frost tender. Dandelion flowers from April to May, and the seeds ripen from May to June. Dandelion flowers are hermaphrodite (have both male and female organs) and are pollinated by Insects, Apomictic (reproduce by seeds formed without sexual fusion). The plant is self-fertile and noted for attracting wildlife.
The plant prefers light (sandy), medium (loamy) and heavy (clay) soils and requires well-drained soil. The plant prefers acid, neutral and basic (alkaline) soils and can grow in very alkaline soil, can grow in semi-shade (light woodland) or no shade. Dandelion requires moist soil and can tolerate maritime exposure.
Family
Edible Uses*
Edible Parts: Flowers; Leaves; Root. Edible Uses: Coffee; Tea.*
Dandelions Leaves are used both raw or cooked[1, 2, 4, 5, 7, 9, 12, 14, 33, 154]. When used in salads, they are rather bitter, though less so in the winter. Tender young leaves are considerably less bitter than older leaves[K]. Dandelion leaves are often blanched (by excluding light from the growing plant) before use[183]. This will make them less bitter, but they will also contain less vitamins and minerals[K].*
Dandelion (Taraxacum Officinale) is a very nutritious food. 100g of the raw leaves contain about 2.7g. protein, 9.2g. carbohydrate, 187mg Calcium, 66mg phosphorus, 3.1mg iron, 76mg sodium, 397mg potassium, 36mg magnesium, 14000 iu vitamin A, 0.19mg vitamin B1, 0.26mg vitamin B2, 35mg vitamin C[173].*
Dandelion Root is used raw or cooked[5, 9, 12, 183]. Bitter. A turnip-like flavour[159]. Flowers - raw or cooked[102, 159]. A rather bitter flavour[K], the unopened flower buds can be used in fritters[183] and they can also be preserved in vinegar and used like capers[7]. Both the leaves and the roots are used to flavour herbal beers and soft drinks such as 'Dandelion and Burdock'[238].*
The roots of 2 year old Dandelion plants are harvested in the autumn, dried and roasted to make a very good coffee substitute[2, 4, 5, 12, 54, 159] that is caffeine-free[213]. A pleasant tea is made from the flowers[12, 102]. They are also used to make wine - all green parts should be removed when making wine to prevent a bitter flavour[238]. The leaves and the roots can also be used to make tea.*
Traditional Chinese Medicinal (TCM) Uses:*
The dandelion is a commonly used herbal remedy, especially effective and valuable as a diuretic because it contains high levels of potassium salts and therefore can replace the potassium that is lost from the body when diuretics are used[238].*
All parts of the Dandelion plant, but especially the root, are slightly aperient, cholagogue, depurative, strongly diuretic, hepatic, laxative, stomachic and tonic[4, 7, 9, 21, 54, 165, 176, 222, 238]. The root is also experimentally cholagogue, hypoglycaemic and a weak antibiotic against yeast infections[222].*
The dried Dandelion root has a weaker action[222]. The roots can be used fresh or dried and should be harvested in the autumn when 2 years old[4]. The leaves are harvested in the spring when the plant is in flower and can be dried for later use[9]. A tea can be made from the leaves or, more commonly, from the roots[213].*
Dandelion is used internally in the treatment of gall bladder and urinary disorders, gallstones, jaundice, cirrhosis, dyspepsia with constipation, oedema associated with high blood pressure and heart weakness, chronic joint and skin complaints, gout, eczema and acne[238].*
The plant has an antibacterial action, inhibiting the growth of Staphylococcus aureus, Pneumococci, Meningococci, Bacillus dysenteriae, B. typhi, C. diphtheriae, Proteus etc[176].*
The latex contained in Dandelion sap can be used to remove corns, warts and verrucae[7]. The latex has a specific action on inflammations of the gall bladder and is also believed to remove stones in the liver[7]. A tea made from the leaves is laxative[222].*
Other Uses
Compost; Cosmetic; Dye; Fruit ripening; Latex; Miscellany.
Dandelion flowers are an ingredient of 'QR' herbal compost activator[32]. This is a dried and powdered mixture of several herbs that can be added to a compost heap in order to speed up bacterial activity and thus shorten the time needed to make the compost[K].
A liquid plant feed can be made from the root and leaves[54]. A low quality latex, which can be used for making rubber, can be obtained from the roots of this plant. A magenta-brown dye is obtained from the root[141]. The plant releases ethylene gas, this stunts the growth of nearby plants and causes premature ripening of fruits[14, 18]. A distilled water made from the ligules (thin appendages at the base of the leaf blades) is used cosmetically to clear the skin and is particularly effective in fading freckles[7].
References
[K] Ken Fern
[1] F. Chittendon.RHS Dictionary of Plants plus Supplement. 1956 Oxford University Press 1951
[2] Hedrick. U. P.Sturtevant's Edible Plants of the World. Dover Publications 1972 ISBN 0-486-20459-6
[4] Grieve.A Modern Herbal. Penguin 1984 ISBN 0-14-046-440-9
[5] Mabey. R.Food for Free. Collins 1974 ISBN 0-00-219060-5
[7] Chiej. R.Encyclopaedia of Medicinal Plants. MacDonald 1984 ISBN 0-356-10541-5
[9] Launert. E.Edible and Medicinal Plants. Hamlyn 1981 ISBN 0-600-37216-2
[10] Altmann. H.Poisonous Plants and Animals. Chatto and Windus 1980 ISBN 0-7011-2526-8
[12] Loewenfeld. C. and Back. P.Britain's Wild Larder. David and Charles 0 ISBN 0-7153-7971-2
[14] Holtom. J. and Hylton. W.Complete Guide to Herbs. Rodale Press 1979 ISBN 0-87857-262-7
[17] Clapham, Tootin and Warburg.Flora of the British Isles. Cambridge University Press 1962
[18] Philbrick H. and Gregg R. B.Companion Plants. Watkins 1979
[21] Lust. J.The Herb Book. Bantam books 1983 ISBN 0-553-23827-2
[24] Baines. C.Making a Wildlife Garden. 0
[30] Carter D.Butterflies and Moths in Britain and Europe. Pan 1982 ISBN 0-330-26642-x
[32] Bruce. M. E.Commonsense Compost Making. Faber 1977 ISBN 0-571-09990-4
[33] Organ. J.Rare Vegetables for Garden and Table. Faber 1960
[37] Thompson. B.The Gardener's Assistant. Blackie and Son. 1878
[54] Hatfield. A. W.How to Enjoy your Weeds. Frederick Muller Ltd 1977 ISBN 0-584-10141-4
[102] Kavasch. B.Native Harvests. Vintage Books 1979 ISBN 0-394-72811-4
[141] Carruthers. S. P. (Editor)Alternative Enterprises for Agriculture in the UK. Centre for Agricultural Strategy, Univ. of Reading 1986 ISBN 0704909820
[154] Ewart. A. J.Flora of Victoria. 0
[159] McPherson. A. and S.Wild Food Plants of Indiana. Indiana University Press 1977 ISBN 0-253-28925-4
[165] Mills. S. Y.The Dictionary of Modern Herbalism. 0
[173] Crowe. A.Native Edible Plants of New Zealand. Hodder and Stoughton 1990 ISBN 0-340-508302
[176] Yeung. Him-Che.Handbook of Chinese Herbs and Formulas. Institute of Chinese Medicine, Los Angeles 1985
[183] Facciola. S.Cornucopia - A Source Book of Edible Plants. Kampong Publications 1990 ISBN 0-9628087-0-9
[200] Huxley. A.The New RHS Dictionary of Gardening. 1992. MacMillan Press 1992 ISBN 0-333-47494-5
[201] Allardice.P.A - Z of Companion Planting. Cassell Publishers Ltd. 1993 ISBN 0-304-34324-2
[213] Weiner. M. A.Earth Medicine, Earth Food. Ballantine Books 1980 ISBN 0-449-90589-6
[222] Foster. S. & Duke. J. A.A Field Guide to Medicinal Plants. Eastern and Central N. America. Houghton Mifflin Co. 1990 ISBN 0395467225
[238] Bown. D.Encyclopaedia of Herbs and their Uses. Dorling Kindersley, London. 1995 ISBN 0-7513-020-31
[245] Genders. R.Scented Flora of the World. Robert Hale. London. 1994 ISBN 0-7090-5440-8
Source: Taraxacum Officinale Dandelion Plants For A Future, England 1996-2008.
This work is licensed under a Creative Commons License.
---
Natural dietary supplements are designed to offer the body support to promote health, harmony, balance and overall well being.*
In TCM Dandelion is used for gall bladder and urinary disorders, gallstones, jaundice, cirrhosis, dyspepsia with constipation, edema associated with high blood pressure and heart weakness, chronic joint and skin complaints, gout, eczema and acne.*