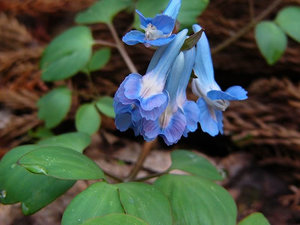 Pinyin: Yan Hu Suo Latin: Corydalis Ambigua
Physical Characteristics
Perennial. It is hardy to zone 0. The flowers are hermaphrodite (have both male and female organs) The plant prefers light (sandy) and medium (loamy) soils and requires well-drained soil. The plant prefers acid, neutral and basic (alkaline) soils. It can grow in semi-shade (light woodland) or no shade. It requires moist soil.
Family
Traditional Chinese Medicinal (TCM) Uses*
Analgesic; Antiseptic; Antispasmodic; Antitussive; Cancer; Cardiotonic; Hypotensive; Sedative. Yan Hu Suo is an important Chinese remedy that has been used for hundreds of years to help 'invigorate the blood' and relieve almost any painful condition. It is used especially to relieve Menstrual Cramps, chest and abdominal pains. The plant contains powerful alkaloids that are responsible for this effect. The root is analgesic, antiseptic, antispasmodic and sedative. It has traditionally been used to lower pain and strengthen the circulation. It is used in the treatment of a wide range of ailments including lumbago, dysmenorrhoea, hernia, chest pains, insomnia and traumatic injuries. The root is harvested in late spring or early summer, once the top growth has died down, and is dried for later use. Various extracts from the plant have shown antitussive, cardiotonic, hypotensive and anticancer activity.*
References
Source: Corydalis Ambigua Yan Hu Suo Plants For A Future, England 1996-2008.
This work is licensed under a Creative Commons License.
---
Natural dietary supplements are designed to offer the body support to promote health, harmony, balance and overall well being.*
Analgesic; Antiseptic; Antispasmodic; Antitussive; Cancer; Cardiotonic; Hypotensive; Sedative. Yan Hu Suo is an important Chinese remedy that has been used for hundreds of years to help 'invigorate the blood' and relieve almost any painful condition.*