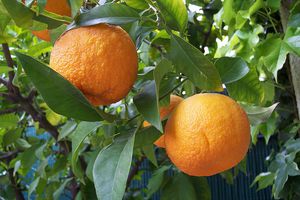 Pinyin: Zhi Ke Latin: Citrus Aurantium; Aurantii Pericarpium (Bitter Orange Peel)
Physical Characteristics
Citris Aurantium or Bitter Orange is an evergreen Tree growing to 9m by 6m. Bitter Orange is hardy to zone 9 and is frost tender. Aurantium is in leaf all year, in flower from April to June. The flowers are hermaphrodite (have both male and female organs) and are pollinated by Apomictic (reproduce by seeds formed without sexual fusion), insects. The plant is self-fertile. The plant prefers medium (loamy) and heavy (clay) soils and requires well-drained soil. The plant prefers acid and neutral soils and can grow in very alkaline soil. It cannot grow in the shade. It requires moist soil.
Family
Edible Uses*
Edible Parts: Fruit. Edible Uses: Condiment; Oil.*
Bitter Orange Fruit is used raw or cooked[1, 3]. Very bitter[46]. Bitter Orange is used in making marmalade and other preserves[3, 46, 61, 183]. The fruit is about 5 - 7cm in diameter[200]. The rind of the fruit is often used as a flavouring in cakes etc[1, 4]. Used in 'bouquet garni'[183].*
An oil obtained from the Bitter Orange seeds contains linolenic acid and is becoming more widely used as a food because of its ability to reduce levels of cholesterol in the blood[7]. Aurantium Fruit flowers are used for scenting tea[183]. An essential oil from the dried peel of immature fruits is used as a food flavouring[183].*
Traditional Chinese Medicinal (TCM) Uses:*
Citrus species contain a wide range of active ingredients and research is still underway in finding uses for them. They are rich in vitamin C, flavonoids, acids and volatile oils. They also contain coumarins such as bergapten which sensitizes the skin to sunlight.*
Bergapten is sometimes added to tanning preparations since it promotes pigmentation in the skin, though it can cause dermatitis or allergic responses in some people[238]. Some of the plants more recent applications are as sources of anti-oxidants and chemical exfoliants in specialized cosmetics[238]. The plants also contain umbelliferone, which is antifungal, as well as essential oils that are antifungal and antibacterial[218].*
Citris also contains the pyrone citrantin, which shows antifertility activity and was once used as a component of contraceptives[218]. Both the leaves and the flowers are antispasmodic, digestive and sedative[7, 9]. An infusion is used in the treatment of stomach problems, sluggish digestion etc[9].*
Aurantium fruit is antiemetic, antitussive, carminative, diaphoretic, digestive and expectorant[218].The immature fruit can be used (called Zhi Shi in China) or the mature fruit with seeds and endocarp removed (called Zhi Ke). The immature fruit has a stronger action.*
They are used in the treatment of dyspepsia, constipation, abdominal distension, stuffy sensation in the chest, prolapse of the uterus, rectum and stomach[176]. The fruit peel is bitter, digestive and stomachic[7]. The seed and the pericarp are used in the treatment of anorexia, chest pains, colds, coughs etc[218]. The essential oil is used in aromatherapy. Its keyword is 'Radiance'[210]. It is used in treating depression, tension and skin problems[238].
Other Uses
Essential; Hedge; Oil; Repellent; Rootstock.
This species is much used as a rootstock for the sweet orange, Citrus sinensis, because of its disease resistance and greater hardiness[3, 46, 61]. Grown as a hedging plant in N. America[260]. A semi-drying oil obtained from the seed is used in soap making[46, 61]. Essential oils obtained from the peel, petals and leaves are used as a food flavouring and also in perfumery and medicines[1, 4, 46, 61, 171].*
The oil from the flowers is called 'Neroli oil' - yields are very low from this species and so it is often adulterated with inferior oils[7]. The oil from the leaves and young shoots is called 'petit-grain' - 400 kilos of plant material yield about 1 kilo of oil[7]. This is also often adulterated with inferior products[7]. Neroli oil, mixed with vaseline, is used in India as a preventative against leeches[268].*
References
[1] F. Chittendon.RHS Dictionary of Plants plus Supplement. 1956 Oxford University Press 1951
[3] Simmons. A. E.Growing Unusual Fruit. David and Charles 1972 ISBN 0-7153-5531-7
[4] Grieve.A Modern Herbal. Penguin 1984 ISBN 0-14-046-440-9
[7] Chiej. R.Encyclopaedia of Medicinal Plants. MacDonald 1984 ISBN 0-356-10541-5
[9] Launert. E.Edible and Medicinal Plants. Hamlyn 1981 ISBN 0-600-37216-2
[46] Uphof. J. C. Th.Dictionary of Economic Plants. Weinheim 1959
[61] Usher. G.A Dictionary of Plants Used by Man. Constable 1974 ISBN 0094579202
[164] Bird. R. (Editor)Growing from Seed. Volume 4. Thompson and Morgan. 1990
[166] Taylor. J.The Milder Garden. Dent 1990
[171] Hill. A. F.Economic Botany. The Maple Press 1952
[176] Yeung. Him-Che.Handbook of Chinese Herbs and Formulas. Institute of Chinese Medicine, Los Angeles 1985
[183] Facciola. S.Cornucopia - A Source Book of Edible Plants. Kampong Publications 1990 ISBN 0-9628087-0-9
[200] Huxley. A.The New RHS Dictionary of Gardening. 1992. MacMillan Press 1992 ISBN 0-333-47494-5
[210] Westwood. C.Aromatherapy - A guide for home use. Amberwood Publishing Ltd 1993 ISBN 0-9517723-0-9
[218] Duke. J. A. and Ayensu. E. S.Medicinal Plants of China Reference Publications, Inc. 1985 ISBN 0-917256-20-4
[238] Bown. D.Encyclopaedia of Herbs and their Uses. Dorling Kindersley, London. 1995 ISBN 0-7513-020-31
[260] Phillips. R. & Rix. M.Conservatory and Indoor Plants Volumes 1 & 2 Pan Books, London. 1998 ISBN 0-330-37376-5
[268] Stuart. M. (Editor)The Encyclopedia of Herbs and Herbalism Orbis Publishing. London. 1979 ISBN 0-85613-067-2
Source: Bitter Orange Citrus Aurantium Plants For A Future, England 1996-2008.
This work is licensed under a Creative Commons License.
---
Natural dietary supplements are designed to offer the body support to promote health, harmony, balance and overall well being.*
In TCM Aurantium Fruit is used in the treatment of dyspepsia, constipation, abdominal distension, stuffy sensation in the chest, prolapse of the uterus, rectum and stomach.*