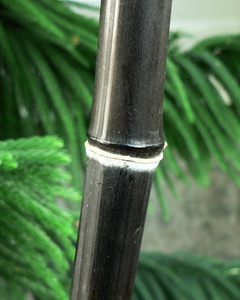 Pinyin:Zhu li Latin: Phyllostachys Nigra
Physical Characteristics
Black Bamboo or Phyllostachys Nigra is an evergreen Bamboo growing to 7.5m by 6m hardy to zone 7 in leaf all year. The flowers are hermaphrodite (have both male and female organs) and are pollinated by Wind. The plant prefers light (sandy), medium (loamy) and heavy (clay) soils that are acid, neutral and basic (alkaline). Black Bamboo can grow in semi-shade (light woodland) and requires moist soil.
Family
Edible Uses*
Edible Parts: Stem.*
The young shoots of Black Bamboo are cooked[25, 46, 105, 177]. Somewhat acrid when raw[61], they are prepared for eating by boiling in one change of water, the water being changed after 8 - 10 minutes[183]. A distinctive taste and aroma[183]. The shoots, which are about 5cm in diameter[266], are harvested in the spring when they are about 8cm above the ground, cutting them about 5cm below soil level.*
Traditional Chinese Medicinal (TCM) Uses:*
Black Bamboo leaves are antipyretic and diuretic[218]. They are used internally in the treatment of fevers (especially infantile convulsions), vomiting and nosebleeds[238]. Phyllostachys Nigra leaves are harvested during the growing season and dried for later use[238].*
The juice of Black Bamboo stems is antipyretic, antitussive, expectorant and sedative[147, 176, 218]. Black Bamboo juice is taken internally in the treatment of lung infections with cough and phlegm[238]. The sap is pressed from young stems in the summer and then dried for later use[238].*
The epidermis of the stem bark is antiemetic, depurative and sedative[147, 176, 218]. Black Bamboo bark is used internally in the treatment of vomiting, nosebleeds, coughs etc[238]. The epidermis is collected from young stems in the summer and is dried for later use[238]. The root is astringent, antipyretic, diuretic and styptic[147, 176, 218].*
Phyllostachys Nigra has been used in the treatment of rabies[238]. The roots are harvested in the winter and dried for later use[238].*
Other Uses
The canes make good plant supports. Thin walled but durable, the canes are also used for cabinet work and for decorative panels and inlays[195]. The rhizome is used in making umbrella handles, wickerwork, canes, musical instruments and various kinds of handicrafts[25, 74].
References
[25] Lawson.Bamboos. Faber 1968
[46] Uphof. J. C. Th.Dictionary of Economic Plants. Weinheim 1959
[50] Flora Europaea Cambridge University Press 1964
[61] Usher. G.A Dictionary of Plants Used by Man. Constable 1974 ISBN 0094579202
[74] Komarov. V. L.Flora of the USSR. Israel Program for Scientific Translation 1968
[105] Tanaka. T.Tanaka's Cyclopaedia of Edible Plants of the World. Keigaku Publishing 1976
[122]The Plantsman. Vol. 1. 1979 - 1980. Royal Horticultural Society 1979
[147] A Barefoot Doctors Manual. Running Press 0 ISBN 0-914294-92-X
[176] Yeung. Him-Che.Handbook of Chinese Herbs and Formulas. Institute of Chinese Medicine, Los Angeles 1985
[177] Kunkel. G.Plants for Human Consumption. Koeltz Scientific Books 1984 ISBN 3874292169
[183] Facciola. S.Cornucopia - A Source Book of Edible Plants. Kampong Publications 1990 ISBN 0-9628087-0-9
[195] Farrelly. D.The Book of Bamboo Sierra Club. 1984 ISBN 0-87156-825-X
[200] Huxley. A.The New RHS Dictionary of Gardening. 1992. MacMillan Press 1992 ISBN 0-333-47494-5
[218] Duke. J. A. and Ayensu. E. S.Medicinal Plants of China Reference Publications, Inc. 1985 ISBN 0-917256-20-4
[238] Bown. D.Encyclopaedia of Herbs and their Uses. Dorling Kindersley, London. 1995 ISBN 0-7513-020-31
[266] Flora of China 1994
Source: Black Bamboo Phyllostachys Nigra Plants For A Future, England 1996-2008.
This work is licensed under a Creative Commons License.
---
Natural dietary supplements are designed to offer the body support to promote health, harmony, balance and overall well being.*
In TCM Black Bamboo juice is taken internally in the treatment of lung infections with cough and phlegm. The sap is pressed from young stems in the summer and then dried for later use.*