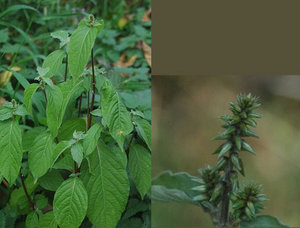 Pinyin: Niu Xi Latin: Radix Achyranthes Bidentatae
Physical Characteristics:
Achyranthes Bidentatae is a hardy perennial growing to 0.75m by 0.4m and is hardy to Zone 8 flowering from August to September with seeds ripening from September to October. Achyranthes Bidentatae flowers have both male and female organs. The Achyranthes plant prefers light (sandy) and medium (loamy) soils that are acid and neutral. Achyranthes can grow in semi-shade (light woodland) or no shade requiring moist soil.
Family:
Edible Uses:*
Edible Parts: Leaves; Seed.*
Achyranthes Seed - cooked. A good substitute for cereal grains in bread-making, Achyranthes seeds have often been used for this purpose in famine years2, 6, 1. The light brown oblong seed is about 1mm long9. Achyranthes Leaves - cooked6, 7. Used as a vegetable in the same manner as spinach8.*
Traditional Chinese Medicinal (TCM) Uses:*
Achyranthes roots, leaves and stems are widely used in Chinese herbal medicine1.*
Achyranthes roots contain triterpenoid saponins, sitosterol and sigmasterol2. They are anodyne, antiinflammatory, antirheumatic, bitter, digestive, diuretic, emmenagogue and vasodilator1, 2.*
Achyranthes acts predominantly on the lower half of the body and is used in the treatment of aching back and knees and asthenia of the lower limbs3, 1, 4. Research suggests that they can cause dilation of the cervix and so this herb should not be used when pregnant1. The Achyranthes herb is taken internally to treat hypertension, back pains, urine in the blood, menstrual pain, bleeding etc1, 2.*
Achyranthes Bidentatae lowers blood cholesterol levels and so is used in the treatment of atherosclerosis2. Achyranthes root juice is used in Nepal in the treatment of toothache5. This juice is also used in the treatment of indigestion and is considered to be a good treatment for asthma5.*
The stem of the plant is used as a toothbrush that is said to be good for the teeth and is also a treatment for pyorrhoea5. Achyranthes can be used fresh or dried. The Achyranthes leaves and stems are harvested in the summer and are usually crushed for their juice or used in tinctures1. Achyranthes roots are harvested from 1 or 2 year old plants in the autumn or winter and usually dried and ground into a powder or used in decoctions1.*
References:
Bown. D. Encyclopaedia of Herbs and their Uses. Dorling Kindersley, London. 1995 ISBN 0-7513-020-31
Nguyen Van Dan & Doan Thi Nhu Medicinal Plants in Vietnam World Health Organisation 1989 ISBN 92 9061 101 4
Yeung. Him-Che. Handbook of Chinese Herbs and Formulas. Institute of Chinese Medicine, Los Angeles 1985
Chevallier. A. The Encyclopedia of Medicinal Plants Dorling Kindersley. London 1996 ISBN 9-780751-303148
Manandhar. N. P. Plants and People of Nepal Timber Press. Oregon. 2002 ISBN 0-88192-527-6
Kunkel. G. Plants for Human Consumption. Koeltz Scientific Books 1984 ISBN 3874292169
Stuart. Rev. G. A. Chinese Materia Medica. Taipei. Southern Materials Centre 0
Reid. B. E. Famine Foods of the Chiu-Huang Pen-ts'ao. Taipei. Southern Materials Centre 1977
Flora of China 1994
Source: Achyranthes Bidentatae Plants For A Future, England 1996-2008.
This work is licensed under a Creative Commons License.
---
Natural dietary supplements are designed to offer the body support to promote health, harmony, balance and overall well being.*
In TCM* the Achyranthes herb is taken internally to treat hypertension, back pains, urine in the blood, menstrual pain, bleeding, etc.*