EnviroKlenz Air Purifier HEPA & VOC Filter (750 sq ft coverage)
SKU:

ENVIRO-VOC
The EnviroKlenz Air Purifer with HEPA and VOC Enviro-Air Cartrdige provides full spectrum protection for airborne particles including Volatile Organic Compounds (VOC's).
This advanced air purifier is perfect for:
Home Use

Business / Office Use

Pet Odors

Individuals with Multiple Chemical Sensitivities

RV's/Campers

Basements

Salons

Clean Rooms

Protection from Airborne Contaminants
FREE SHIPPING TO ALL 48 CONTINENTAL US STATES. FOR OTHER AREAS, CALL OR EMAIL US FOR A QUOTE.
EnviroKlenz Air Purifier is a HEPA and VOC Filter with a coverage area of up to 750 sq ft. This air purifier is a technically advanced whole house HEPA filter and patented EnviroKlenz VOC air cartridge designed to remove a wide variety of harmful substances from the air including chemicals, noxious odors, airborne pollen, dust, dust mites, mold/mildew, allergens, spores, gasses, fumes, fragrance, VOCs, bacteria, and more.
Did you know that indoor air can actually be more polluted than outdoor air within a smoggy city?
Utilizing advanced hospital grade technology, you will get cost-effective air cleaning capability for your home or office that maximizes VOC removal from air and is a leader in HEPA air purification. The EnviroKlenz Air Purifier comes with a variable speed fan that provides efficient airflow that will accommodate home or office use. On low speed operation, this amazing air purifier is nearly silent. Filter maintenance is easy and simple on this unit, with easy removal and replacement without requirements of a tool.
PURCHASE OPTION #1 AT $649/EA INCLUDES:

1 EnviroKlenz Air Purifer

1 EnviroKlenz VOC Air Cartridge Filter

1 EnviroKlenz Medical Grade HEPA Filter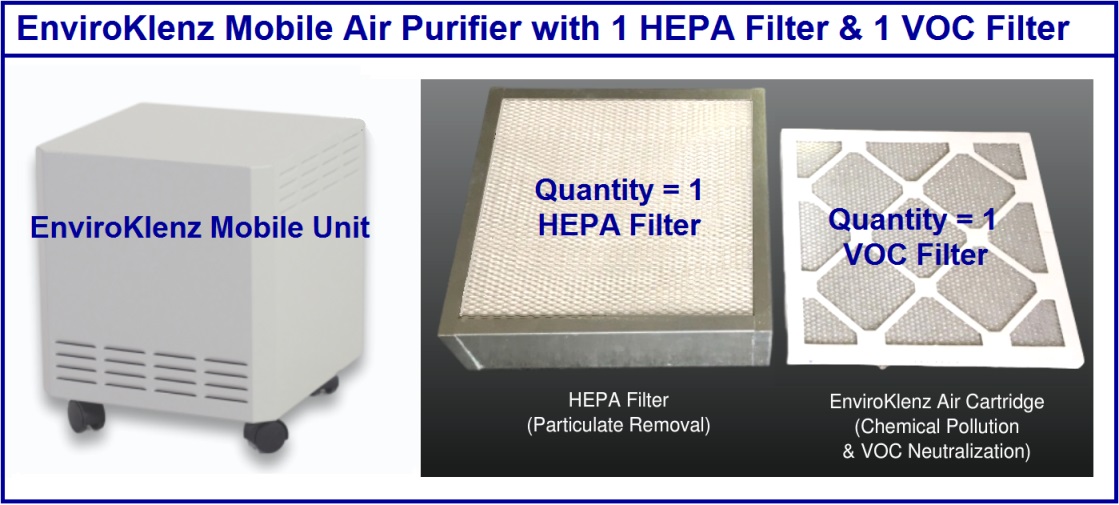 PURCHASE OPTION #2 AT $799/EA INCLUDES:
1 EnviroKlenz Air Purifer

1 EnviroKlenz VOC Air Cartridge Filter

1 EnviroKlenz Medical Grade HEPA Filter

2 Additional EnvironKlenz Replacement VOC Air Cartridge Filters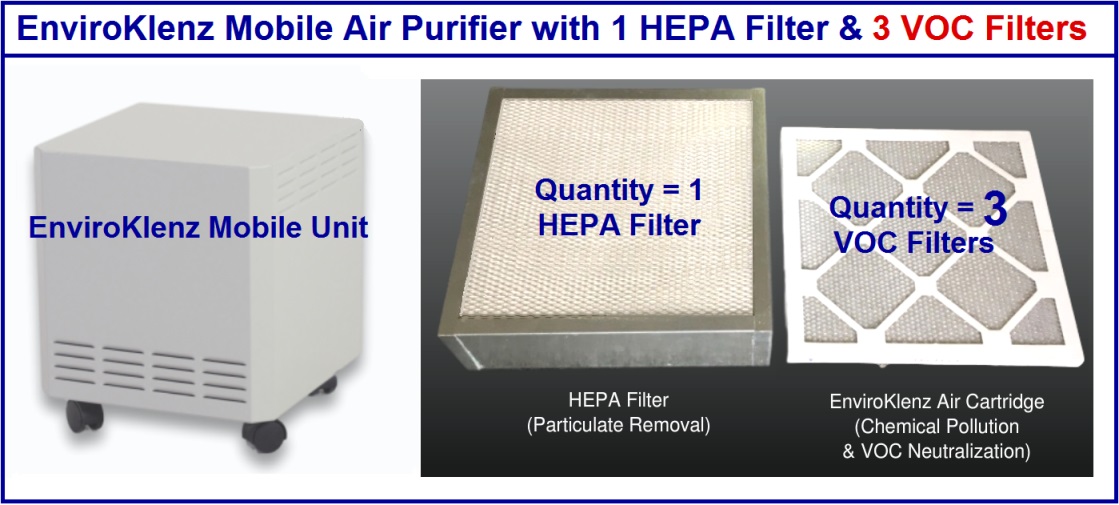 WHAT MAKES ENVIROKLENZ VOC FILTERS SO UNIQUE AND EFFECTIVE?
EnviroKlenz unique production processes yields a highly effective and broad chemical neutralization ability. Each VOC Filter contains a special combination of balanced activated earth minerals designed to attach, destroy and/or neutralize volatile pollutants that are commonly found in homes and offices.
WHAT ARE THE INGREDIENTS INSIDE THE FILTER?:
The main active ingredients that make the VOC Filter highly effective include the following active metal oxides powders:
Magnesium Oxide (MgO)

Zinc Oxide (ZnO)

Titanium Dioxide (TiO2)
Quite simply they are just active earth minerals which are generally considered safe compounds and are often found in a variety of safe consumer and food products. These metal oxides do Not contain chemical additives and are Not potentially harmful nano-sized particles.
We are an authorized dealer of all the EnviroKlenz Air Purifier is a HEPA and VOC Filter, replacement filters, and other EnviroKlenz products. Please contact us if you have any questions or need assistance with ordering.
FILTER MAINTENANCE SCHEDULE
Change HEPA filter every 2-3 year

Change VOC Air Cartridge Filter every 3-6 months depending usage
OPTIONAL FILTER: In addition to the HEPA and VOC filters that come with a unit, you may also purchase inexpensive and optional 14x14 inch pre-filters from any local hardware stores to extend the life of your HEPA filter and trap larger dust particles before they reach the HEPA filter.
PERSONAL ENVIRONMENTAL PROTECTION FOR EVERYONE:
The EPA conducted a 17-year study and found that women working in their homes had a 55% greater risk of dying from cancer than those who worked in an office, due to the use of ordinary household cleaners. Some of the products found in American homes have chemical ingredients that are potentially harmful. Look under the kitchen sink, in the bathroom, the garage, and the basement for examples. There you will find oven cleaners, paint removers, bug killers, solvents, drain cleaners, and more. These products are potentially harmful to people and to the environment.
To remedy this toxic exposure within our home or office, EnviroKlenz products have been specifically designed for effectiveness towards toxic or volatile compounds that may be negatively impacting our personal environmental spaces.
EnviroKlenz products and technology offer the ability to chemically dismantle a wide range of undesirable chemical compounds. Fragrances, tobacco smoke, volatile organic compounds (VOC) and pesticides are all comprised of a wide range of chemicals.
A WORD FROM ENVIROKLENZ:
"The creation of EnviroKlenz was inspired by our Customers with Multiple Chemical Sensitivities (MCS). We have been honored to be able to work closely with them and learn from their experience and feedback. Through their recommendations we were able to introduce a product line that is both effective and safe for everyone, especially those with illnesses triggered by environmental exposures. We have worked vigorously and diligently to test our products with MCS influencers and support groups to provide "Personal Environmental Protection for Everyone. We look forward to continuing our work with those affected by Multiple Chemical Sensitivities, to provide resources and products that will help overcome the challenges of living in our toxic world."
EnviroKlenz creates a process that addresses odors and chemical contamination in air space, surfaces, and on contents through a variety of products to collectively create a clean and healthy environment.
TECHNICAL SPECIFICATIONS
EnviroKlenz Mobile Air System: 250 CFM Type – 115V

CFM Rating – Whisp Air 85, Low 150, Medium 200, High& 250

Unit Size: Height – 19" x Width – 15" x Depth – 15"

Net weight: 38 lbs (17.1 Kg) Ship weight – approximate 45 lbs (20.5 Kg)

EnviroKlenz Air Cartridge for odor, gas, fumes, chemicals, VOC

EnviroKlenz HEPA Filter - Medical Grade removing 99.97% of air particulant to 0.3 microns

Power: 115V/60Hz / 1 amp

Cord Length: 5 Ft (7.6 M)

Controls: 4-speed (Whips-Air, Low, Medium, High)

Coverage Area: Up to 750 sq ft at 2 air exchanges per hour

Decibel Ratings from 6 feet:

Whisp-Air – 0.0 decibels

Low – 20.8 decibels

Medium – 45-50 decibels

High – 58-decibels
The EnviroKlenz Process Guarantee
The EnviroKlenz process is the scientifically and field proven choice for the safe, rapid, convenient, and cost-effective restoration of indoor spaces from fragrances and other toxic vapors. The EnviroKlenz core chemistry (the "Product") irreversibly captures and neutralizes a broad range of indoor air pollutants EnviroKlenz has been tested and proven effective against a broad spectrum of hazardous chemicals and VOC's. Timilon warrants that when used as directed, EnviroKlenz will irreversibly adsorb and/or destroy the following chemical compounds: